With everything going on this year we wanted to bring you some Christmas Cheer in the Wylde blog this week. We know the latest announcements may have put a spanner in the works for so many of our festive plans this year but we're here to sprinkle some seasonal joy – even in 2020! As it's "the most wonderful time of the year" we're looking back on some of the amazing creations and designs that the festive season has had to offer!
Ikea have launched a flat-pack gingerbread house kit! Much like us, we're sure the Swedish furniture retail company simply wanted to add a hint of positivity into their customers lives during such bleak times! The 'Gingerbread Höme' kit allows users to create miniature gingerbread versions of iconic IKEA furniture and there are downloadable instruction manuals, including everything from the inventory to the step-by-step illustrations!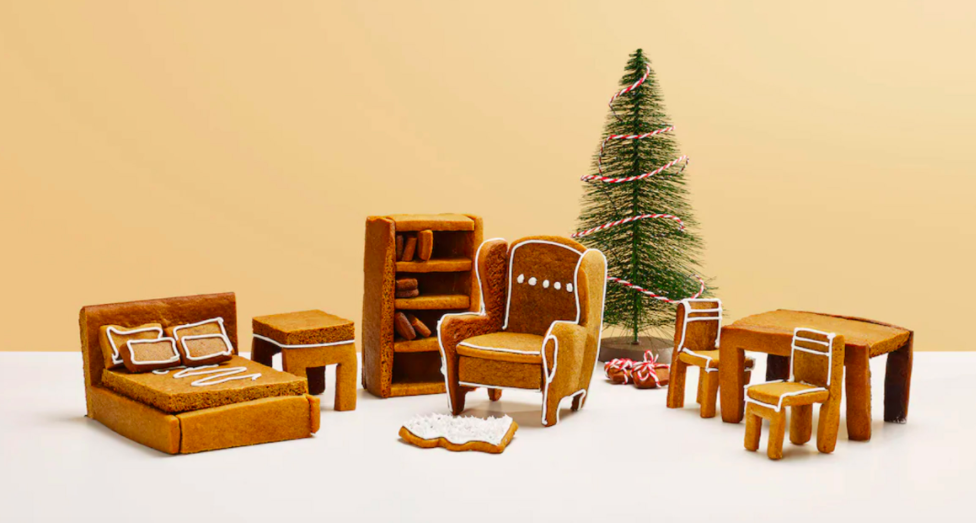 We've also been looking back at Dezeen's Top Christmas Tree creations last year – our favourites include an absolutely stunning brightly coloured lattice tree by Outeredit in Singapore and the mesmerising floral tree created by McQueens Flowers in London. Of course, it's always worth checking out the Liberty Christmas Tree portfolio as every year there is something festive yet totally unexpected from them and in its absence this year Liberty London have well and truly gone to town on their window displays – each one a work of art! Check out the Dezeen article here;
https://www.dezeen.com/2019/12/23/christmas-trees-2019-roundup/
As most of us will be spending Christmas at home this year and not socialising in the ways that we usually would we wanted to remind you to look after your mental wellbeing and reach out to those who might be struggling this year. Check out our recent blog on Winter Wellbeing and talk about how you're feeling with your loved ones.
We've collated a Christmas gallery, showcasing some stunning seasonal photography from around the world – including Canadian sun-lit tree tops, seasonal transitions in the Italian Zillertal Alps to incredible macro-photography of delicate snowflakes and some yummy homemade Christmas treats. We hope you find them warming and give you a little extra Christmas cheer – or perhaps they'll inspire you to make some festive treats, whatever you do we hope you enjoy the break.
We also wanted to give a shout out to the person who found a satellite image of a lake in Kazakhstan that looks JUST like a Christmas tree. We're not sure how he came to be looking at this particular stretch of land but it's a phenomenal image all the same!