Whilst events still aren't quite what we're used to – we're making the most of being able to visit exhibitions whilst we can! Last weekend saw the close of the London Design Biennale whose theme this year was Resonance.
The London Design Biennale started in 2016 as an international celebration of design, showcasing collaborations, exhibitions and installations that "demonstrate the ambition to create universal solutions to problems which concern us all.". The second LDB hosted some of the most globally renowned designers and creators and this year has shown the resilience within one of the hardest hit industries in the Covid-19 crisis.
The physical exhibition and fair took over Somerset House with a focus on the way that outstanding design changes the way we live and the choice we make, bringing up the question –  'Can We Design A Better World?'. The Artistic Director of the London Design Biennale; Es Devlin looks at how we scrutinise and react to absolutely everything around us and the way our worlds are designed matter.
"We live in an age of hyper resonance, the consequences of which are both exhilarating and devastating. Everything we design and everything we produce resonates."
This global gathering of design includes an exhibition comprised of over 500 submissions from the international design community and the public responding to an Open Call  to 'Design In An Age of Crisis'. The pandemic has shown a necessary yet disturbing spotlight on the many crises across the world from poor health, access to housing, the climate emergency, social and economic inequalities and this gallery discusses everything!
If you couldn't make it to London this time, check out their social media pages to see what was on offer! Also check out the exhibition just down the street at 180 The Strand by Ryoji Ikeda, a Japanese visual and sound artist. We will warn you – this is not for the faint-hearted! A stunning and intense mix of strobing lights and booming/beeping sounds guide you through a series of different rooms – an abstract show that makes you contemplate the world we live in today and the vast amounts of data and information available to us.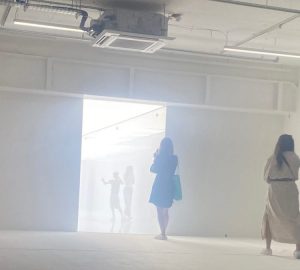 London Design Biennale Gallery